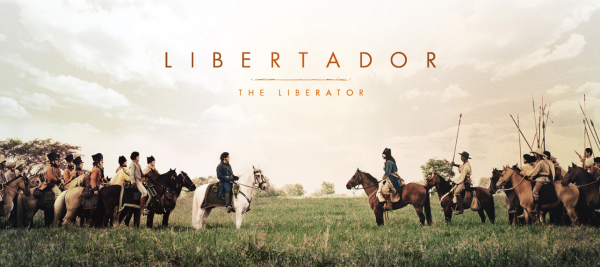 Summer's gone. With it, that covetous humidity that monopolizes every conversation from July to August in Washington. A cool breeze has taken its place, smelling of cinnamon and nutmeg, and easing our transition from attempting to become professional beer tasters in any rooftop that will take us, to bundled-up movie lovers.
On September 18, AFI kicked off its 25th Latin American Film Festival with the movie by the Venezuelan director, Alberto Arvelo, about Simon Bolivar: "The Liberator." AFI (American Film Institute), an educational non-profit organization with alumni like Janusz Kaminski (Schindler's List) and Darron Arofnosky (Requiem for a Dream, Black Swan), forms part of the legacy of President Johnson, who in 1965 created the National Endowment for the Arts, saying: "Art is a nation's most precious heritage. For it is in our works of art that we reveal to ourselves and to others the inner vision which guides us as a nation. And where there is no vision, the people perish."
Three years later, Johnson also commemorated Latin Americans' contribution to the United States, announcing the Hispanic Heritage Week, which Reagan later expanded to a full month, from September 15 to October 15. In celebration, AFI is featuring forty movies from twenty Latin American countries at its theater in Silver Springs, Maryland. Ending on October 8th, the festival includes special guests like analysts, critics, and directors, to comment on the movies.
"Tonight we start with the perfect Pan-American film," announced Josh Gardner, AFI's Associate Film Programmer. The special guest, Marie Arana, the Peruvian-American author of the book "Bolivar: American Liberator" concurred, highlighting Bolivar's magnanimity: "He singlehandedly led the liberation of what would become six nations. […] with a landmass the size of modern Europe. […] In the battles of Venezuela, alone, there were more deaths than in the American Revolution and Civil War combined. It was he who had brought the promise of democracy, opened the minds of Latin Americans to what we could become. It was he, who with a higher moral instinct than even Jefferson or Washington, understood the absurdity of embarking in a war of liberation without first freeing your own slaves."
Her words culminated in a round of applause in anticipation of the movie, an anticipation intensified with the "Sold Out" sign and the "stand by" line for those who had accumulated good karma or believed in luck. But the applause originated from different expectations, some met and others, at best only partially.
On one hand, there were those seduced by the sexiness of Arvelo's production, first, because of its cost of 50 million, which makes it the most expensive film in Latin American cinema. In the best of Hollywood style, The Liberator immediately transports the spectator to the XIX century, with a scenery and costume design worthy of a Keira Knightley movie. Second, because it includes international stars such as the Spanish cinematographer, Xavi Gimenez (Agora), the American actor, Danny Huston, (The Constant Gardener, X Men: Wolverine) and the Brit, Iwan Rheon (Game of Thrones). A collaboration like this has never been seen in a Venezuelan production or even thought possible. And, third, a good part of the public's excitement came from, of course, wanting to see Edgar Ramirez in the lead role. Contrasting with the Bolivar who Arana described, 5´ 6" and barely 130 pounds, the one in the movie is the typical cinematic hero: tall, strong, handsome, and perpetually young. Only with the insinuation of his death, can we confirm that he is not an Olympic god, but that simply Hollywood got to the screenwriter's head. And moving along that route, the one more creative than pedagogical, the producers focus on Bolivar's love life, with his wife, the Madrilenian aristocrat, Maria Teresa Rodriguez del Toro, a Parisian lover, and the revolutionary from Quito, Manuela Saenz, fulfilling the pop culture entertainment formula: beauty + sex = sales. At least Arana had confessed, "Bolivar was an in-sa-tia-ble lover."
Applause also came from those looking for a good dose of homeland memories. Although Francisco de Miranda says in one scene: "This is not a fight for Venezuela, this is a fight for the Patagonia, for Peru, for the Andes. This is, above all, a fight for the spirit of the Americas," Venezuelans, as per usual, took over Bolivar and the theater that night. It required little effort to spot them, with their whistling between speeches and at the end of the movie, their uncontrollable laughter after Bolivar's professor, Simon Rodriguez, lets out a "coño" in absolute frustration, and with the need of more than one to interrupt the dialogue saying "Aha, yeah, aha, true words" when Ramirez looked at the horizon to reflect on a democratic ideal. In brief, an ambience resembling a light version of a Miami – Caracas flight. But also, an environment of nostalgia provoked by the views of Orinoco, Acarigua, and Choroni. A nostalgia, that would just not give in, with the guava that Maria Teresa eats when she first arrives in Caracas and the coffee prepared by Negra Hipolita, Bolivar's nanny, while Dudamel's music whispered in the background.
Applause came, lastly, from the history lovers, those who worship one of the most treasured men in the Americas–a man who in countries like Venezuela continues to be omnipresent in every plaza, with the misfortune of being cursed when there are simply not enough bolivars to afford basic needs. These spectators joined to take refuge in the promise of liberty, equality, and fraternity of two centuries ago, at least for one night.
These members of the audience, perhaps, left the theater less captivated.
During the reception that followed, some protested that the movie failed to delve into the intellectual process that caused Bolivar to lead his fight when he had never had military training and was born into wealth. How did he form the ideals that inspired him to fight more than one hundred battles? They also objected to the half hour dedicated to Bolivar's wife, who died when he was only 19, when focusing more on the revolutionary, Manual Saenz, could have allowed to better understand his mind. Finally, there was disappointment at the movie's suggestion that a conspiracy, not tuberculosis, killed the liberator, reviving the qualm that had been put to bed after President Hugo Chavez ordered to dig Bolivar´s bones up to confirm if he had been poisoned. The answer from the forensic doctors had been a definite "no."
Maybe these last spectators would reevaluate President Johnson's words and say that it's not that through the arts we preserve a nation's vision, but that the arts allow for the reinvention of this vision. At times art transforms reality from A to, not quite B, but to a cursive, golden, polished A.
Without a doubt, the reconfiguration of Bolivar in The Liberator captures an epic, unprecedented man. As Arana said: "Never before in the history of the Americas had a man existed who could transform such a large territory, united so many races, and dreamed so big: Bolivar, liberator."
At least this grandeur transcended and will transcend beyond the different expectations in the movie theater that night. And so, centuries after his death, Bolivar unites us again.
"ViceVersa Magazine inquieta, palpita y nos reúne desde Nueva York, como organismo vivo, necesario, que se alimenta de lo múltiple y diverso, del decir valiente, simplemente indispensable, porque nos invita a comprender, a pertenecer y asumir, y así, a construir un mejor porvenir. Desde el sosiego y comprensión que sólo permite el pensamiento libre." - Lupe Gehrenbeck
Afíliate a ViceVersa Magazine y asegura su futuro
Afíliate